Tube of choice - I am using the artwork of Rion Vernon and PinUp Toons which can be purchased from CILM
**PLEASE DO NOT USE HIS ARTWORK WITHOUT THE APROPRIATE LICENCE**
Font of choice - I am using Chocolate Dulce
Plugin: Eye Candy 4000 Gradient Glow
Level - a fairly easy tutorial for Beginners with plugins and effects
~ Step 1 ~
Open a 600 x 600 blank canvas flood-filled white
Paste GlitterSpray1 as new layer
Resize by 70%
Paste ChocoHeart1 as new layer
Resize by 130%
Paste ChocoHeart2 as new layer
Keep in position
Paste Bow1 as new layer
Resize by 60%
Position over upper left of orange heart
Paste Flower2 as new layer
Resize by 35%
Position in lower left of hearts
Paste Flower1 as new layer
Resize by 30%
Place in same position overlapping first flower
Paste ChocoEgg2 as new layer
Resize by 40%
Position tucked behind flowers
Duplicate and resize again by 85%
Move slighly across
Duplicate again and tuck BEHIND the first two Egg layers
Duplicate eggs as many times as you wish and place them around your tag

~ Step 2 ~
Paste your tube and resize if necessary
**If you wish to colourise or blend the clothing of your tube to match the tag (as I did):
1. With your freehand tool draw around the clothing on your tube
2. Selections / Promote Selection to Layer
3. Set the blend mode to Multiply, Duplicate then the blend mode of the duplicate to Soft Light

~ Step 3 ~
Set your Material Properties as follows:
Foreground - #523f41
Background - #b53a04
Select your font of choice (I am using Choclate Dulce)
Size - 44
Stroke width - 1.5
Create as Vector - checked
Type out "Mmm...Should I?" or any text of your choosing
Adjust / Add/Remove Noise / Add Noise
Gaussian
Noise - 15
Monochrome
OK
Effects / Distortion Effects / Wave with the following settings: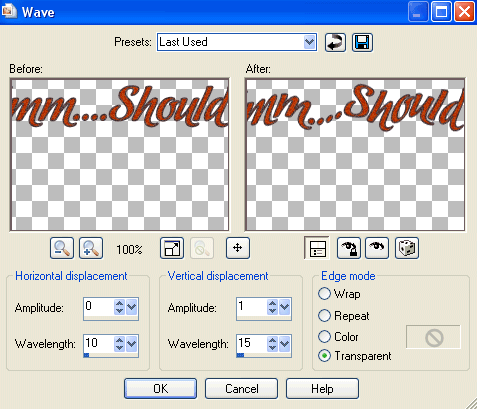 Add a drop shadow of choice
Now keep the settings but change the size of the font (depending on the length of your name)
I changed the size to 60
Type out your name and add some noise if you wish
Effects / Plugins / Eye Candy 4000 / Gradient Glow with the following settings:
Glow width - 3.00
Soft Corners - 25
Opacity - 100
Duplicate name layer
On your original layer go to
Adjust / Blur / Gaussian Blur with a Radius of 10.00
Set the blend mode to Screen
Finally, add your © copyright, licence, watermark
Then save as a GIF or JPG and you're done!
Thanks for trying my tutorial
::st!na::

© Tutorial written by Stina on 3rd March 2009
All rights reserved